Media Room Demo: 7.1 Surround Gives a 10.0 Experience, Prosper, TX
Media rooms have become very common in today's homes. It is part of the American dream in Prosper, TX: to have a theater in your home, to watch movies and games. It is a place where families and friends can gather for an in-home experience, home theater style.
When it comes to media rooms, it seems there are endless options. Where do you begin? It's like playing a game of 20 questions… Do I need 7.1 or 5.1 surround sounds speakers? What size projector screen do I need? Do I buy a projector/screen or LED TV? Do I want in-wall or floor standing speakers? How much will it cost?
These are all valid questions, and ones that a professional home theater company can answer and help guide you through the process of designing your dream media room.
Understandably, one of the most common questions is how much will it cost? Our recommendation would be to go into the media room planning process with a budget in mind. The budget will help guide the selection of equipment and will help keep the project scope where you need it to be.
Home theater is fun. It is all about an experience. You can get 'knock your socks off' quality without a 'knock your socks off' price. Check out the demo linked below. This media room was professionally installed with excellent quality equipment, without a hefty price tag. With this type of quality media room equipment, that room will be enjoyed for countless years to come.
Media Room Demo
This video is a demo of a media room that has 7.1 Polk surround sound speakers, Onkyo receiver, Sony projector, and a Pro Control universal remote control. Equipment can tailored to the customer's needs and budget requirements.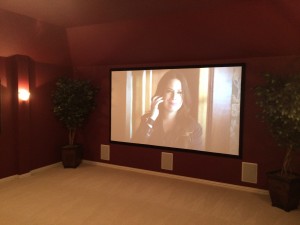 This media room system certainly outputs incredible sound, to make 10.0 home theater experience!
Best home theater installer
Center Stage AV
2831 El Dorado Pkwy. Ste 103-172
Frisco, TX 75033
www.CenterStageTX.com
214-498-9996
Center Stage A/V services the northern Collin County, TX area: Frisco TX, Prosper TX, Celina TX, McKinney TX, Little Elm TX, Plano TX, Allen TX, Lucas TX, Savannah TX.