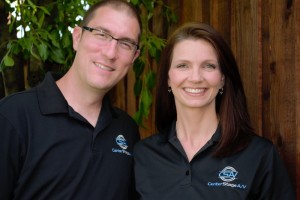 Hello and welcome. Feel free to make yourself at home and learn more about us!
My name is Chris Brown. For over 15 years I have been in the home theater/electronics industry. Let's just say it's a real passion of mine!
In 2007, I along with my wife, started this wonderful part-time business doing home theater installations, while I was working a full time Monday-Friday job. Initially, our part-time business was my 'outlet' for helping others to have an amazing experience in their home through sound and vision. We started with a couple of very terrific, loyal customers. Over time, those first customers grew into a need to be a full-time business. We decided to take the plunge and venture into this business full-time, and here we are!
Our core values are honesty, integrity, and loyalty. We bring these values to each and every interaction with our customers. I am dedicated to this business and our customers 100%.
Whether it's a simple TV mounting, security cameras, whole house sound (speakers in multiple rooms), or a full media room set up, we do it all. We have also done many surprise birthday, Christmas, and 'just because' projects. We will work with your schedule to surprise your loved one. Anything a/v related is a terrific gift.
The smiles on the face of our customers and the excitement in their voice when they hear their system for the first time is priceless. It is WHY I'm in this business. We bring joy to our customers through a real experience in their own home. Who needs to see a movie at a busy theater when you can enjoy popcorn and an amazing sounding movie in the comfort of your own home?!
Please contact us and give us the opportunity to put a big smile on your face! We guarantee it.
Experience. Entertainment. Possibilities.
Look for our truck around town!