Home Theater Speakers: In-Wall vs. Floor Standing – Which is Best for You? Frisco, TX
You are in the planning process for your beloved media room in Frisco, TX. You know you want the speakers with incredible, wall-shaking, knock-your-socks-off, sound.
Now, for the million dollar question – do you go with in-wall speakers or floor standing home theater speakers?  Great question… and one that many homeowners wonder when planning their media room sound equipment and speakers.  Let's have some fun and break it down…
First, we'll start with laying some foundation of how home theater speakers are made, and how they work.
Speakers have what's called a cone, which you may recognize as the cone-shaped part of the speaker. The speaker cone produces the sound via the coil and electromagnet behind it.  This is what causes the speaker cone to vibrate (which is the same for any speaker, including car speakers).  An electrical signals passes through the coil, and that 'activates' the magnet to produce the sound. Check out this article for a deeper look.
The sound production does vary between in-wall and floor standing speakers, and because of that, there are definite pros and cons between them.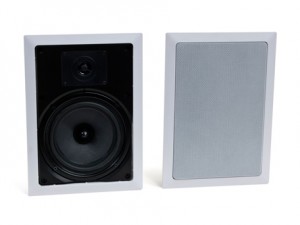 In-wall home theater speakers – Pros:
In-wall speakers are mounted inside of the wall and/or ceiling. This can be considered a pro if you like to visual appearance of flush mounted speakers (also viewed as semi-hidden speakers).
In-wall speakers can be painted to match any décor/paint color. This makes the speaker blend in perfectly with the wall, making them less visible.
Offers a flexibility factor, as they can be placed anywhere in the wall/ceiling.
Typically cost less than floor standing speakers.
In-wall home theater speakers – Cons:
Drywall has to be cut in the walls (or ceiling) for wires to be placed in the walls, requiring more installation and time investment.
The low, mid and high sounds are all coming through one speaker (primarily the lows), as opposed to having a floor standing speaker which produces the low, mid, and high sounds individually.
They are smaller speakers in size, as compared to a floor standing, which reduces the amount of sound it can produce.
Sound can get 'lost' within the walls, causing some (probably minor) level of sound loss.
Floor standing home theater speakers – Pros: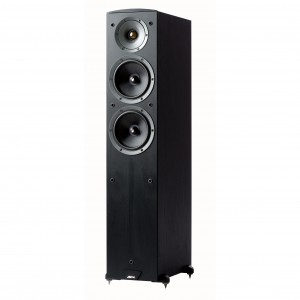 A floor standing speaker is known to have the most accurate sound reproduction, because it's in a custom speaker box that enhances and compliments acoustics.
Usually each speaker tower consists of a tweeter, a mid-range speaker, and a speaker for the low sounds, therefore, covering all ranges of sound being produced (see photo). As a result, no sound gets lost.
Floor standing speakers offer various styles and sizes, to personalize and accommodate spaces and buyer preferences.
Some floor standing speakers have built in sub-woofer, which prevents from having to buy a separate sub-woofer.
Floor standing home theater speakers – Cons:
Floor standing home theater speakers can be considered more intrusive, only because they stand on the floor and are visible, as opposed to being inside the walls/ceiling.
Floor standing speakers typically cost more than an in-wall speaker. If you prefer a floor standing speaker, you will want your budget to allow the cost difference.
There is always the option to combine and do both in-wall and floor standing speakers.
With all that being said, it really boils down to personal preference.  You can accomplish terrific, knock-your-socks-off sound with either in-wall or floor standing home theater speakers.  It's all about your personal preference, and possibly budget.
To conclude, whichever home theater speakers you ultimately decide on, you can produce that quality in-home movie theater experience. So, have fun with your media room, and know that you will have years of enjoyment ahead of you!
Best home theater installer
Center Stage AV
2831 El Dorado Pkwy. Ste 103-172
Frisco, TX 75033
www.CenterStageTX.com
214-498-9996
Center Stage A/V services the northern Collin County, TX area: Frisco TX, Prosper TX, Celina TX, McKinney TX, Little Elm TX, Plano TX, Allen TX, Lucas TX, Savannah TX.