Home theater is our passion, in Frisco, TX.
Why is home theater our passion? We must say, in large part, it's the gratifying response we witness from our customers when they experience their newly installed system for the first time. The response of a big, huge, unforgettable smile accompanied by a twinkle in the eye as they feel the jolt of bass ricocheting off the walls in their media room. The smile and twinkle that says, "WOW! That is awesome!!!" The cherry on top, is when the wife looks at us and says, "We are never going to the movie theater again!" Yes, that has happened….a lot!
Mission accomplished.
Our customer loves their media room system. We walk away feeling good that we had part in putting a big smile on our customer's face today.
This feeling never gets old. Why? Because….
Home theater is our passion.  
This was a media room install Center Stage A/V completed recently. Our customer relocated to the Frisco area and was eager to have his media room set up so they could enjoy that aspect of their new home.
They enjoy nights with the family, eating popcorn, and watching a movie on the big screen. The beauty is they can now relax and snuggle up in their very own movie theater. No need to load the kids up in the car. Their media room is only a few steps away! What a beautiful thing.
Center Stage A/V specializes in custom created systems, however, we also install equipment currently owned by our customers. This is the case with our newly relocated customer. He brought his equipment with him across multiple states. Yes, it's that important! We agree with you Mr. Customer that hauling it across country is worth it, because…
Home theater is our passion.
This media room started as a nice coat of dark red paint and a console for the a/v equipment. Insert, Center Stage A/V….watch out, a smile is coming soon!
So…. What all do you see here? This media room has a 92" projector screen, 7.1 surround sound speakers, and a 12" subwoofer that will rock your world.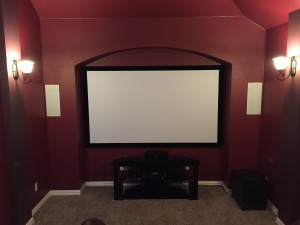 We didn't stop there. The game room needed some awesome stuff too!
Center Stage A/V mounted a 40" flat screen TV with a pair of 8" round in-wall speakers.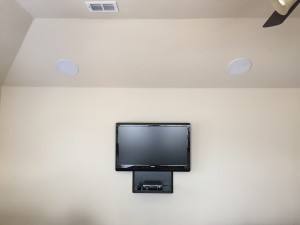 The install was complete. It is now demo time! Yes, this is when our customer gets to experience their media room for the first time. We're excited… we know what is coming – the smile!
We start the movie clip, wait for the response… and there it is – the smile that brings us a smile every. single. time. Why? Because…
Home theater is our passion.
Experience. Entertainment. Possibilities.
Best home theater installer
Center Stage AV
2831 El Dorado Pkwy. Ste 103-172
Frisco, TX 75033
www.CenterStageTX.com
214-498-9996
Center Stage A/V services the northern Collin County, TX area: Frisco TX, Prosper TX, Celina TX, McKinney TX, Little Elm TX, Plano TX, Allen TX, Lucas TX, Savannah TX.