Universal Remote Control:  A Must-Have in Frisco, TX
Does this pile of remote controls look familiar in Frisco, TX? If you answered yes, you definitely want to keep reading…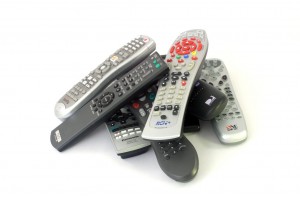 Imagine this…
It's a Friday night after a long week at work. You decide it's a perfect night to stay in and relax during a movie with your family. You grab the popcorn and beverages and head to the media room. Ahhh, you are surely in for a nice, relaxing night at home….but, first let's gear up the system…
You go to your mile long row of remote controls lined up on the table. You need to turn on your TV, Blue Ray player, receiver… and the list goes on. You pull out the TV remote, click the Power button. Next, you pull out your Blue Ray player remote, click the Power button. Then, you pull out your receiver remote control, hit the Power button and make sure it's on the correct input. Now, you rummage back through your remotes, grab the Blue Ray player remote control (again) and push the Play button.
The movie begins to play. The sound is too low. Guess what? It's time to dig back through your stack of remotes. Find the receiver remote. Turn the volume up to your liking, and enjoy the movie.
How many steps did that take to simply turn on the movie? Too many!
Not to fret, there is a brilliant solution – a universal remote control.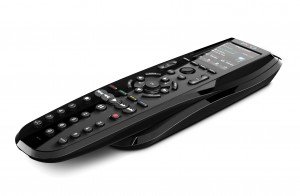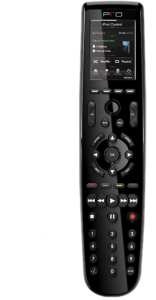 A universal remote control has a simple job, and that is to consolidate your pile of remotes to ONE single pre-programmed remote control.  How does that work? We're glad you asked.
It's really a simple process. You purchase a universal remote control from Center Stage A/V, and we will program it for you, resulting in one shiny, new remote control. The remote control programming includes any a/v component you own (TV, Blue Ray player, receiver, cable/satellite box, Apple TV, CD player, etc.). Provide us with your favorite TV channels and music stations, and we will program those in for you as well.
You can toss the gamut of other remotes you have into a drawer somewhere, and forget about them.
Is it easy to use? YES! Literally, with a (touch screen) push of a button on the universal remote control, the entire system will power up and be ready to play your movie. Once the movie is playing, if you need to adjust the volume, stop, pause, etc., simply use the universal remote control to complete any action. It is really that simple and easy to use.
Buying a universal remote control will really eliminate the hassle of working through a pile of remote controls, which can be stressful, especially for those in the household who may not know which remote goes to which a/v component. Sometimes, even the best intentions with a label maker and remotes don't help too well.
So, think of the purchase of a universal remote control being a stress reliever, and something that makes your family movie watching time that much more enjoyable and relaxing.
Best home theater installer
Center Stage AV
2831 El Dorado Pkwy. Ste 103-172
Frisco, TX 75033
www.CenterStageTX.com
214-498-9996
Center Stage A/V services the northern Collin County, TX area: Frisco TX, Prosper TX, Celina TX, McKinney TX, Little Elm TX, Plano TX, Allen TX, Lucas TX, Savannah TX.