Home Theater Receiver: Mobile App Equals Convenience in Prosper, TX!
Remember the days when remote controls didn't exist for televisions in Prosper, TX? I remember having to get up from the couch to turn the dial on the TV to adjust the channel and volume. We would take turns 'getting' to change the channel.
That was a few decades ago, and times have certainly changed since those days of manual effort to perform simple tasks related to electronics!
The remote control is standard these days with televisions, Blue Ray Players, home theater receivers, and every other wonderful electronic offered on the market.
We are spoiled by convenience… and let's face it – we all love convenience.
If you love convenience, then we have great news for you!  Most manufacturers of electronic components these days have created a downloadable mobile app, which can be used for that added convenience factor. Yes – this means there is a remote control and a mobile app available to you! Double the convenience.
While most electronic manufacturers offer the mobile app, today we are going to focus on the mobile apps created for a home theater receiver.
Home theater receivers are used as a hub for various a/v components (e.g. blue ray player, multi-room speakers, patio/pool speakers, etc.).
We hosted a barbecue at our home recently, and spent most of our time on our back patio where we have outdoor speakers mounted. The sound for the outdoor speakers runs through the home theater receiver, which is placed in a room far from the back patio. We like to play music for our guests, and enjoy it playing in the background while spending time with our friends outside.
While we could have used our universal remote control, we opted for the additional convenience of using our mobile phone to select what we wanted to listen to. There's no need to carry around the receiver remote control. Simply keep your mobile phone by your side, and you are all set!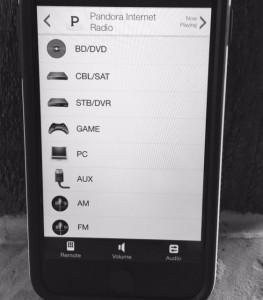 Check out all of the options you have from the mobile app. It's every option you have on the home theater receiver remote control. Essentially, the app is an extension of the remote control. Now, that's what we call convenience!
Manufacturers of home theater receivers include Onkyo, Sony, and Pioneer. All of which offer a mobile app for their receivers.
After purchasing your new home theater receiver, go to your App Store on your mobile device and download their app. Follow the directions to download to your specific receiver. It's that easy.
Now, you are all set with your mobile app for your receiver. Have some fun and find as many uses as you can for it… because the number of ways it can be used seems endless!
Best home theater installer
Center Stage AV
2831 El Dorado Pkwy. Ste 103-172
Frisco, TX 75033
www.CenterStageTX.com
214-498-9996
Center Stage A/V services the northern Collin County, TX area: Frisco TX, Prosper TX, Celina TX, McKinney TX, Little Elm TX, Plano TX, Allen TX, Lucas TX, Savannah TX.