AV Component Rack: A Solution for Component Storage
There is a great solution on the market for storage of a/v components in one cleanly-housed place in Prosper, TX. It is called an AV Component Rack. Typically, a entertainment console is used to store a/v components. However, there are a couple of great reasons to consider using an AV Component Rack instead of an entertainment console.
Reason 1:
It is clean, consolidated storage of components. Instead of having your a/v components spread out in various places within your space, the a/v component rack provides a storage solution that is clean, and well organized for each component.
Reason 2:
It is a space saver. The number of a/v components you have could add up quickly, which could easily translate to those components taking over a lot of space (plus the wires!). The a/v component rack goes up (vertical), as opposed to horizontally like an entertainment console.
Reason 3:
It locks. The rack has a glass door that locks. This is a bonus if you have children, especially small children, who like to play with the a/v components. The locks protects your component investment from being touched and damaged.
Cool features of the AV Component Rack:
Multiple shelves for storage of several a/v components
Ventilates hot air to prevent overheating of a/v equipment
Glass door on front provides a view of the components from the outside while protecting them
Glass door locks
Several options for placement of rack (i.e. closet, inside custom cabinetry, in the corner of the room, etc.)
Solid, sturdy construction
Looks nice, good aesthetics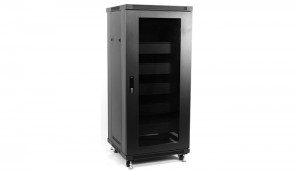 In summary, an AV Component Rack is a good solution for someone who has a number of a/v components that need a good, clean, well-constructed storage solution.
Contact CSAV today!
The best home theater design and installation
Center Stage A/V
www.CenterStageTX.com
214-498-9996
2831 Eldorado Pkwy.
Ste 103-172
Frisco, TX 75033
info@CenterStageTX.com
We service the northern Collin County, TX area: Frisco TX, Prosper TX, Celina TX, McKinney TX, Little Elm TX, Plano TX, Allen TX, Lucas TX, Savannah TX.