Home Entertainment Ideas for Watching the Big Game in Frisco, TX
Do you get excited as football season draws near? We certainly do!  Football means cheering on your favorite team, having friends and family over to scream and celebrate a good play, it means temperatures getting cooler outside. All great things. All opportunities to have fun, eat good food, and make memories. Let's explore some home entertainment ideas and ways to step up your game at home to watch the big game.
Get the Popcorn Honey – We're Watching the game in our Media Room!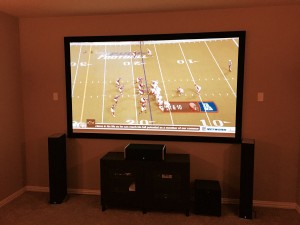 Media rooms can provide the ultimate experience to watch the big game…on the BIG screen! It's like being in a movie theater, sitting comfy in home theater chairs, eating popcorn, drinking your beverage of choice, and rallying with your family…and maybe even a group of your buddies. You can mount the biggest, coolest TV you can find on your wall or mount a projector with a large projector screen (typical projector screens can range from 92″ to 130″+). It's all preference. We have customers who do prefer the TV over the projector with screen. Check out projector screen options here.
Gather Around, Family – We're Watching the game in our Family Room!
Upgrade your family room set up with a large TV mounted on the wall (or mounting above the fireplace has became popular). Go for a 70″ mounted TV, have 5.1 surround sound speakers or 7.1 surround sound speakers installed. The surround sound speakers will give you the maximum sound to enjoy the big game in your family room.
Another home theater option for your family room, instead of surround sound speakers, is a soundbar. This is either mounted beneath the TV on the wall, or sat on the entertainment console. It is a great substitute for the standard surround sound speakers.
Come on over Friends – We're Watching the game on the Back Patio and while we grill and enjoy the Fall weather!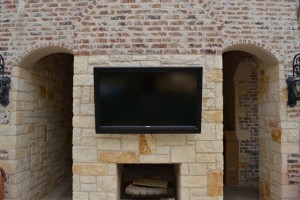 Take the watching party outside! Mount a big TV on your back patio. Add a pair or two of outdoor speakers to enhance the sound. You can purchase a standard flat screen TV for the patio and enclose it in a weather-proof TV case (idea! take on a fun Pinterest project and build one!). Or you can purchase a weather-proof TV. This is the more costly option, but certainly guarantees there would be no problems with it being on the patio.
This is a great time of year to invest in home entertainment, no matter which option you choose!  Cheers to Fall, football, and building memories with family and friends.
Center Stage A/V serves the northern Collin County, TX area: Frisco, McKinney, Prosper, Little Elm, Celina, Plano, Melissa, Anna, and surrounding areas.
Have some fun and visit our Build My Experience page or submit a quick Contact Us form!
Center Stage A/V
2831 ElDorado Pkwy.
Ste. 103-172
Frisco, TX 75033
214-498-9996