Heat Ventilation for Home Theater Equipment, Frisco TX
You have invested in your very own media room in your home. You have purchased all of the latest and greatest home theater equipment for your media room. You are planning to 'live' in your brand new media room because it is just that exciting. Oh, the possibilities of events you could host in your new media room. Football watching parties. Movie nights with the family. March Madness with the friends. The list goes on!
You are right. It is an exciting, thrilling, "can't wait until the weekend" kind of feeling. Imagine this – it is Saturday night, you are sitting back watching a movie with your family in your awesome media room, and all of the sudden the movie shuts off. What happened? Could it be the heat gremlin?  What is a heat gremlin? We have the answer and solution.
The heat gremlin is when home theater equipment gets too hot and overheats, which could cause the home theater equipment to shut down. Yes, that happens! Let's explain…
Home theater equipment must have proper heat ventilation. Each a/v component (Blue Ray player, Receiver, Cable box, etc.) produces heat, similar to how a computer or laptop produces heat. When there a several a/v components in one small space, such as an a/v component rack, that heat can easily and quickly build up, and potentially created issues.
Watch this video for a demonstration and more details on proper home theater equipment heat ventilation.
There are a few other notable factors to consider as it relates to proper home theater equipment heat ventilation, to ensure an optimal lifespan for your investment.
They should be kept at a comfortable, cool temperature.
The ideal temperature is 85 degrees or lower in the component cabinet. For every 10 degrees above that, there could be a possible reduction in lifespan of 40% (based on studies).
Maintain proper airflow for the home theater equipment. As long as the heat from your components can be released, and not recirculate within the component space, all should be good.
Place your equipment is a home theater equipment rack, such as the one pictured here.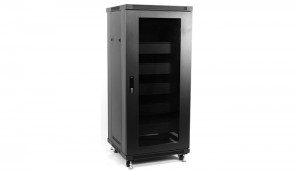 Protect your investment, and enjoy it for years to come!
Contact Center Stage A/V today to discuss your home theater installation!
Best home theater installation
Center Stage A/V
2831 Eldorado Pkwy. Ste 103-172
Frisco, TX 75033
214-498-9996
We service the northern Collin County, TX area: Frisco TX, Prosper TX, Celina TX, McKinney TX, Little Elm TX, Plano TX, Allen TX, Lucas TX, Savannah TX.